Actress Trisha turns a year older today. Birthday wishes have been pouring in for the gorgeous actress from audience and celebrities alike. Actor Arya had the sweetest birthday message for the gorgeous actress.
As we know, Trisha and Arya share a bond over things beyond films. The Ghajinikanth actor took to his Twitter to share an adorable birthday wishes for the actress.
"Happy birthday my dear Kunjumani @trishtrashers  have a fantastic year darling. looking forward to all your movies this year you are the best.  Have fun," tweeted Arya, who also posted a hilarious tweet that left thee fans of both stars in frenzy.
In a recent Twitter interaction with fans, actress Trisha answered a range of questions on various topics. Interestingly, one netizen asked the actress if she would marry her dear friend Arya.
"@trishtrashers why can't u and arya marry?? I feel it would be amazing.. U both looking perfect and great..", posted a netizen.
For which the actress quickly replied, " #dieing", tagging Arya in the tweet.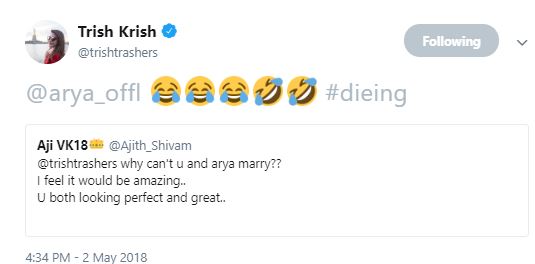 While the audience have been waiting for Arya's response to the tweet, on Trisha's birthday, the former made a hilarious reply to the actress. "Kalyanamthaan Kattikittu Odipolamaa Illa Odipoi Kalyaanamthaan Kattikalama", tweeted Arya. The hilarious tweeted has already gone viral on social media.