While the issue between Digital Service Providers (DSPs) – Qube, UFO, etc – and Tamil Films Producers Council still remains unresolved, an indefinite theatre strike was announced from March 16 across the State.
The strike is to protest against digital service providers (DSPs) to bring down the projection cost levied by them. Reportedly, shooting of films and other movie-related events will also come to a halt from March 16.
With few days left for the strike, Qube Cinema Technologies, one of the DSPs, have released a revised visual Print Fees (VPF) for Tamil Nadu Producers Council, theatre owners, and distributors. Requesting Tamil Film Producers Council not to stop releases and theatres to reopen, Qube has released the new discounted rates "as agreed to with the South Indian Film Chamber of Commerce and the Joint Action Committee of the South Indian Film Industry".
Check out the full statement here –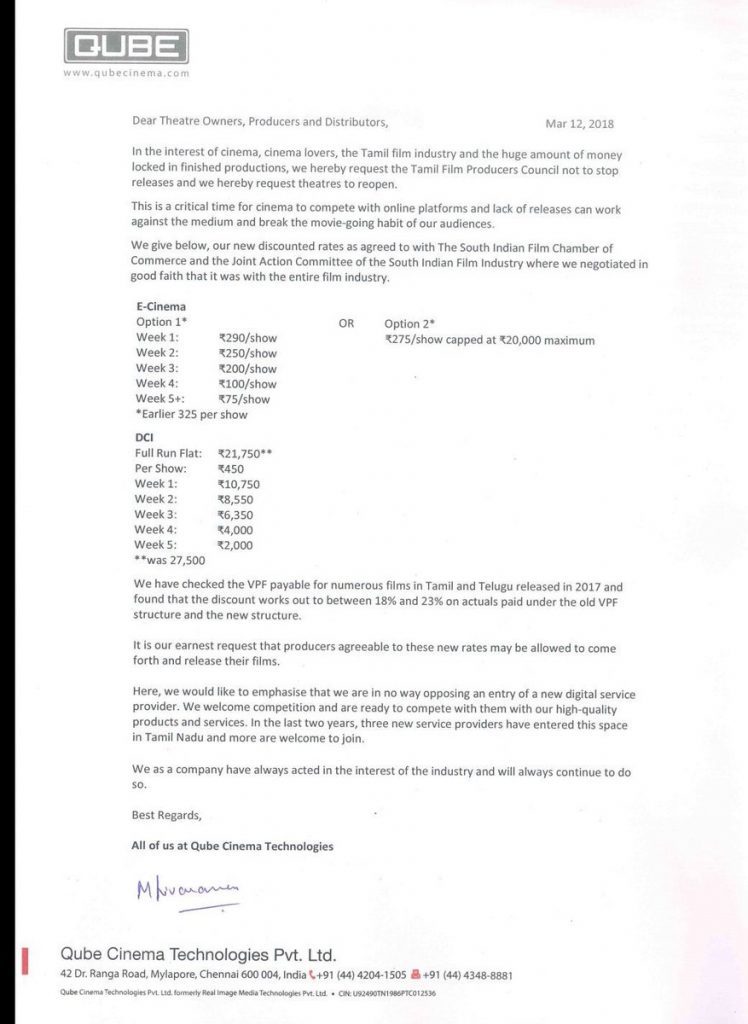 According to film trade analysts, the footfalls have already gone down as cinemas in Tamil Nadu had no new releases last week.
Reportedly, the tussle between the Tamil Film Producers Council (TFPC) and digital service providers, forced theatre owners to continue playing older films and re-release old superhits such as Theri and Baasha among many others.
With several films waiting to be released this summer, producers and theatre owners are already feeling the heat.
Tamil Film Producers Council rejects revises rates
The Tamil Film Producers Council has rejected the revised visual Print Fees (VPF) released by Qube Cinema Technologies. As announced earlier, TFPC has stuck to the decision to go for an indefinite strike from March 16.
TFPC announced that shooting of films within Tamil Nadu has to be stopped from March 16. Already planned shoots outside Tamil Nadu and abroad, should be stopped from March 23 and can be resumed after the strike ends.
After the strike ends, movies which were already censored, this year January, and awaiting release, will be given first release priority.
As the TFPC, theatre owners, distributors, and DSPs are still not on the same page, it is going to be a complete shut down of Tamil industry from March 16!