Ace cricketer and captain of the Indian Cricket team Virat Kohli has just revealed a surprise update. According to his latest tweet, the actor is all set to make his debut as an actor.
"Another debut after 10 years, can't wait! #TrailerTheMovie http://www.trailerthemovie.com (sic)" he has tweeted.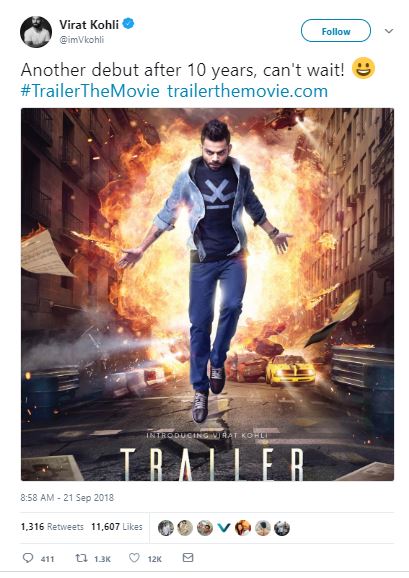 From his tweet, it looks like he is making his debut with a movie titled Trailer The Movie and is all set to release on September 28.
The tweet has gone viral on social media especially because Virat has mentioned that he is making 'another' debut after 10 years, referring to his debut in cricket.
Virat Kohli got married to Bollywood starlet Anushka Sharma last year in a picturesque ceremony in Italy. The couple has starred together in several advertisements and it remains to be seen if she will star as the female lead in this movie as well.