Trisha and Vijay Sethupathi's '96 hit screens recently and has been stealing the hearts of the audience. The breezy romance is fetching rave reviews for actors Vijay Sethupathi and Trisha and the director Prem Kumar. The music of the film is already a chartbuster and composer Govind Vasantha has delivered his best yet.
Actress Trisha has thanked the audience for their love and support for the film in an Instagram post.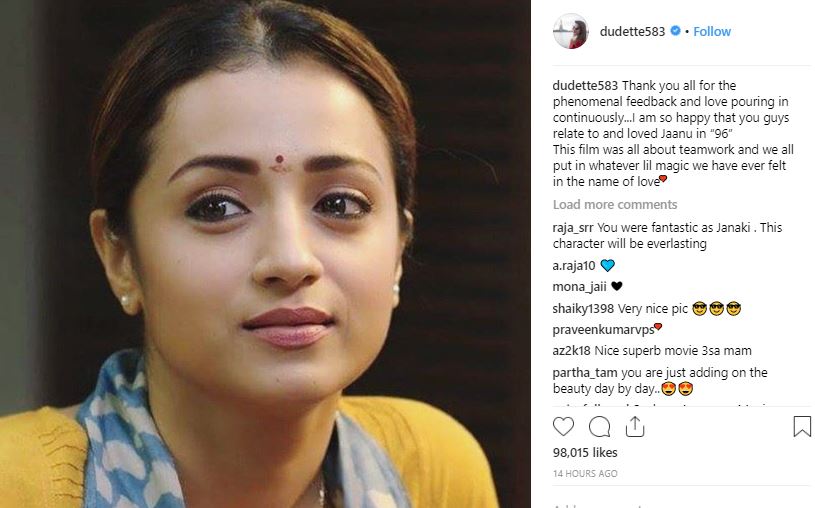 Trisha has been receiving accolades from all over and the talented actress has shared a few on her social media page.
Actress Khushbu had shared a heartfelt tweet about Trisha's performance that the latter had shared on her social media page.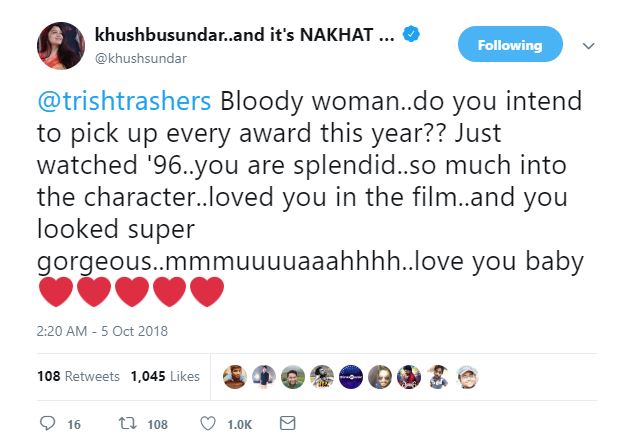 Check out Trisha's response here-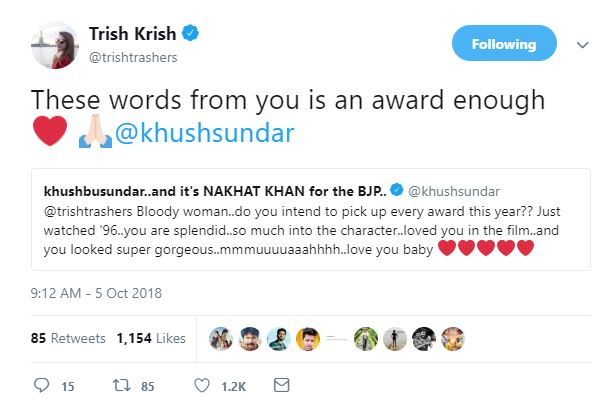 Apart from Khushbu, editor Suresh, actress Ramya Subramaniam and actor Vikram Prabhu have also shared their thoughts on the movie.
Editor Suresh's tweet reads "I literally have never smiled, laughed, or cried during a movie as much as I just did watching #96Movie. When you put two powerfully talented actors like @VijaySethuOffl & @trishtrashers together on screen, you get magic. Which lives on. Thank you #PremKumar for this experience. (sic)"
Actress Ramya Subramaniam- "96 is so FULL OF LOVE\!It breaks your heart and still makes you feel a victorious love !Extraordinary performances by all with @trishtrashers & @VijaySethuOffl being the heart beat of this heart felt film !Spl Congratulations to @Premkumar1710 @govind_vasantha (sic)"
Actor Vikram Prabhu has said ".@trishtrashers My sister loved you in #96movie best wishes to you, @VijaySethuOffl and the entire team for a poetic movie. Hoping to catch it soon *(sic)"
Check out what others from the industry are saying about the movie.
Director duo Pushkar and Gayathri have said "#96TheMovie What a warm and rooted performance by @VijaySethuOffl .He brings a truth to everything he does! @trishtrashers 's Janu was perfectly pitched! Congrats Director @Premkumar1710 ! Brilliant music @govind_vasantha and mix @valentino_suren. #96TheFilm #96Movie (sic)"
Hitesh Jabak from Jabaks Movies has said "Kudos to #VijaySethupathy not only for monetary help to #96TheMovie producer but for the intention , no producer likes to get embarsssed but for circumstances, real hero . Cause of people like him still individual producers exists. Way to go Sethu -Hitesh Jhabak (sic)"
"#96TheMovie will take you back to your schools days! Everyone have performed so well! I was just Physically present!! Good work! congratulations to the whole team!!! @VijaySethuOffl @trishtrashers @MadrasEnterpriz @thinkmusicindia (sic)." tweeted S.R. Arun
Actor Arvind Swami has said "Hearing great things about #96TheMovie … Congratulations! @trishtrashers and VS @VijaySethuOffl and the entire team. (sic)"
Director PS Mithran has said "#96TheMovie is pure nostalgia. Remembering all the broken hearts from my school days. @Premkumar1710 will take us back to all the happy memories in our lives. Wonderful filmmaking (sic)"
*tweets are not spell-checked.