Actor-producer Sivakarthikeyan turned lyricist for composer Anirudh Ravichander for Kolamaavu Kokila. He has written the song Kalyaana Vayasu, starring Yogi Babu and Nayanthara.
The song shows Yogi Babu falling in love with Nayanthara and his funny antics to express his love. With a song in the background that goes "Enakku ippo kalyaana vayasu daan vandhurichu di", Yogi Babu is seen swooning after a nonchalant Nayanthara.
The video has a lot of popular references, including the sensational Priya Varrier's hand-gun. It instills laugh and keeps you gripped, thanks to Yogi Babu's body language and expressions.
This song is Sivakarthikeyan's debut as a lyricist and though it is not poetry, it has its own charm. The use of casual slang only adds to Yogi Babu's presence on screen. The song may not have worked the same way with deep, meaningful lyrics, especially when its meant to portray a comedian falling in love with a heroine.
Anirudh's music has the usual elements that make a song catchy. A nice beat, a breezy tune and a touch of his trademark techno tunes.
Post the release of the song, director Vignesh Shivn shared the song on his Twitter handle with an adorable caption- "Hilarious song frm my dearest,the most talented&100 times more humorous than anyone in this planet @Nelson_director @anirudhofficial magic spun arnd trendsetter @Siva_Kartikeyan lyrics never fails to put a smile on our face! #Nayanthara😍 &Yogi babu😡"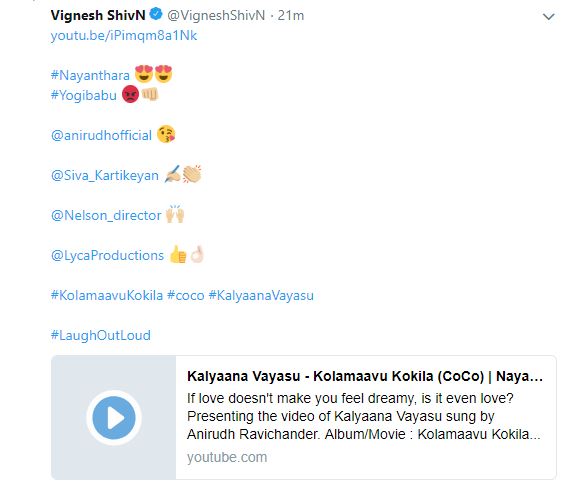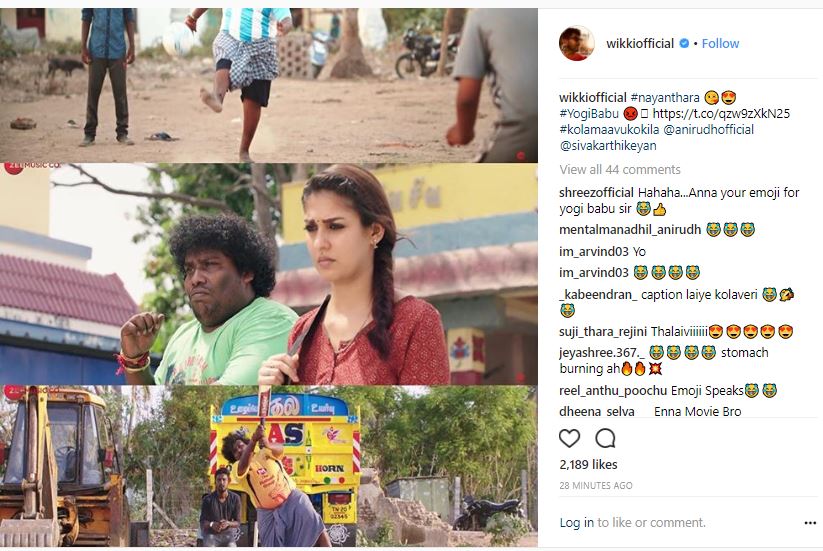 It is to be noted that at a recent award function, Nayanthara even referred to Vignesh Shivn as her fiance. Pictures of the duo on holiday become viral on social media. If the two are indeed together, then Vignesh Shivn's reaction is just adorable!
Check out Kalyaana Vayasu song here-