In a massive development, Tamil Film Producers Council president Vishal announced on Twitter that the ongoing TFPC strike has been called off and new Tamil movies will hit screens soon.
A few weeks ago, TFPC had announced that no new Tamil movies will be released in theatres from March 1. This indefinite strike was started in opposition to the prices charged by Digital Service Providers that stream movies to theatres.
The TFPC strike has lasted over a month and theaters have been screening reruns of old movies. When the strike was initiated, TFPC president Vishal had announced that work is being done to make alternate arrangements for digital service providers. Allegations made against digital service providers included charging high rates and also making additional income through advertisements.
In the weeks that followed the strike, it looked like neither party was willing to step down and things looked bleak for the industry. Apart from having no new releases, the shooting was stalled for all upcoming movies and the entire film fraternity was on standby.
TFPC strike called off, screens to see new Tamil releases
The latest update on the TFPC strike is that a meeting was held with all the stakeholders in attendance and it was decided that the strike be called off. With the involvement of the state government, the decisions were made. Vishal had announced the same on his Twitter handle.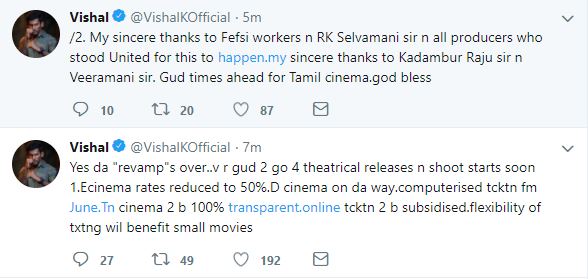 Here are a few key points to take away from Vishal's statements-
Ticket prices to become flexible, in line with the scale of the movie. Ticketing process to become computerized by June 1.
Charges paid when booking tickets online has been reduced to a maximum of Rs. 4/- from Rs.30/-
Digital Service Providers have reportedly slashed their VPF rates by half
A decision on resuming stalled shootings and releases is awaited.
Many highly awaited movies like Rajinikanth's Kaala and Karthik Subbaraj's Mercury are in the pipeline for release.