As the rain fury continues in Kerala,  a red alert has been declared in all 14 districts across the state. With no let up in the continuous rainfall, the sluice gates of 35 of the 39 major dams have been opened in the state.
The Chief Minister of Kerala, Pinarayi Vijayan has urged people to contribute to the Chief Minister's Distress Relief Fund (CMDRF). Contributions can be made directly by going to donation.cmdrf.kerala.gov.in.
"Here's how you can help those affected by the unprecedented floods in Kerala. Now you can make donations online to Chief Minister's Distress Relief Fund through the site, https://donation.cmdrf.kerala.gov.in/  #KeralaFloods #StandWithKerala.," tweeted Pinarayi Vijayan.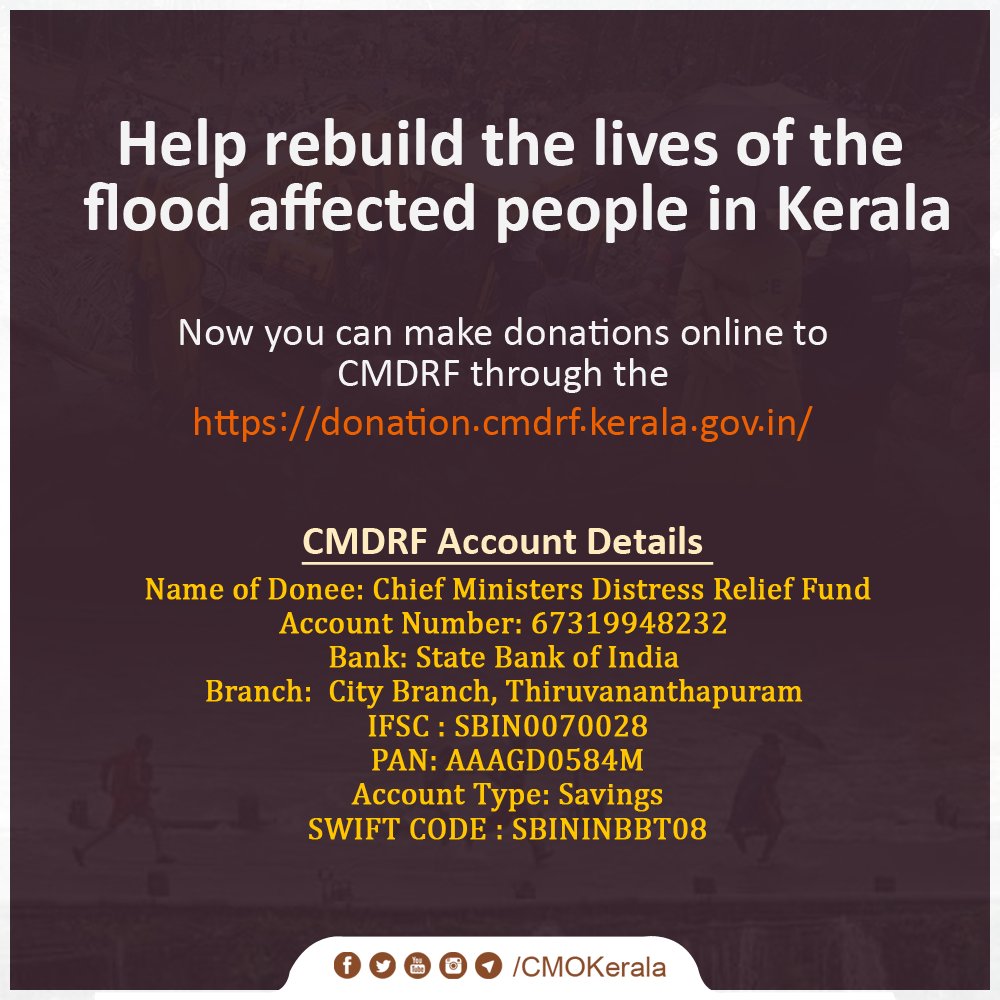 As a precautionary measure to avoid electrocution, Kerala State Electricity Board (KSEB) cut off the power supply in the flood-hit areas.
Following continuous rains and the opening of dam shutters of Mulla Periyar, the public road transport systems are disrupted in many parts of the state and several trains connecting Ernakulam have been canceled. All flight operations are suspended at Kochi airport till August 18.
With the heavy downpour in the last few days, Kochi Metro Rail Limted (KMRL) discontinued their service on Thursday.
Here are the latest updates on Kerala flood and weather
"Abstain from spreading misinformation on whatsapp & social media networks. Many rumours & fake news are surfacing. Listen for official announcements. Follow the CMO handles in Twitter & FB; FB pages of Ministers, District Collectors, Kerala Police & Fire force. #KeralaFloods2018," reads CMO Kerala's tweet.
"Alert: People in the low lying areas along Chalakudy river and its tributaries are requested to move to higher locations as a precautionary measure. All stranded people are being attended by the forces in maximum capacity. #KeralaFloods2018," reads CMO Kerala's tweet.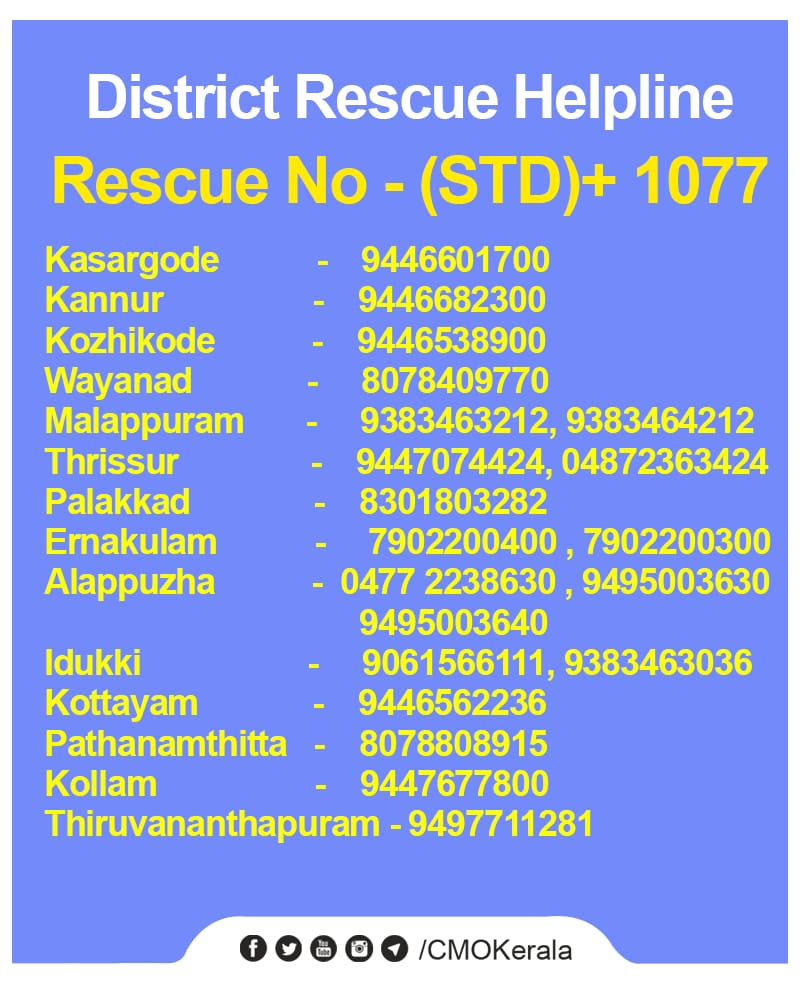 "Alert: the water-level in both Periyar and Chalakudy rivers will rise. People in 1km radius of Chalakudy, and those inside ½ km of radius of Aluva, must evacuate the place immediately. #KeralaFloods2018," reads CMO Kerala's tweet.
The floods in Kerala is worsening and is called the worst flood since the 1924 south-west monsoon, which received the highest rainfall in its recorded history.
Talking to media on Thursday, Union Minister of Tourism, K.J. Alphons,  said, "Twelve districts are severely affected by the Kerala floods. These are the worst floods since 1924."
Kerala Financial Minister Thomas Isaac, tweeted, "The flood situation in Kerala worsening. Mass evacuations starts from many flooded areas including Kuttanad. Rescue operations to save stranded people continuing in full swing. So far The death toll crosses 250.Destroyed or damaged houses may cross 1 lakh."
"People who have been rescued from Pathanamthitta and evacuated to Thiruvananthapuram have been accommodated at Chala Boys High School, Thiruvananthapuram," reads CMO Kerala's tweet, on Thursday.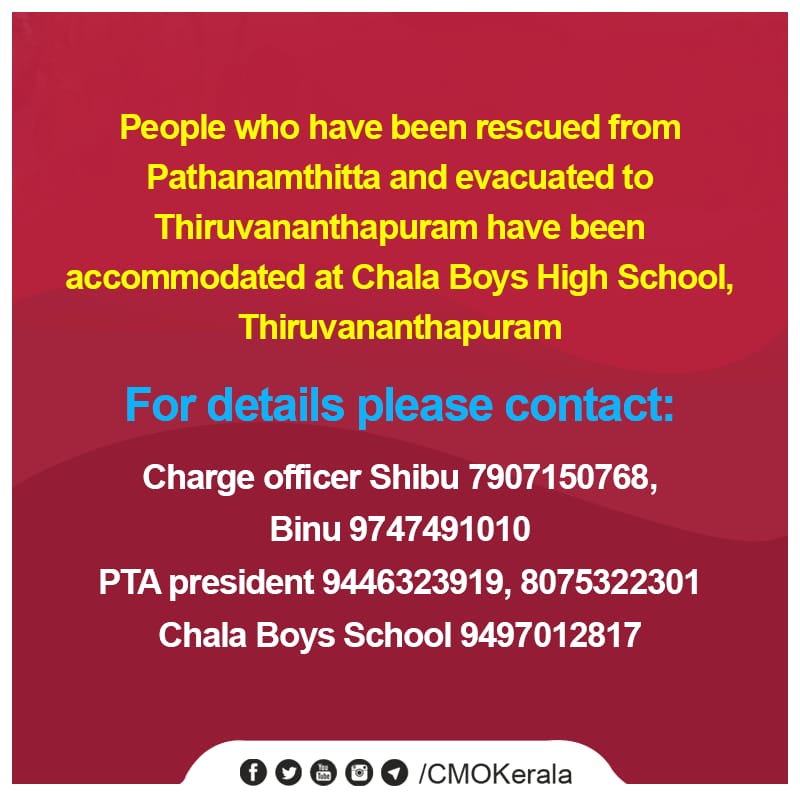 "For details please contact: Charge officer Shibu 7907150768, Binu 9747491010 DPI 9447625106 Village Officer 8547610107 PTA president 9446323919, 8075322301 Chala Boys School 9497012817."
"Floating devices, lifeboats and life jackets will be airdropped to stranded groups of 50 or more people. #KeralaFloods2018," reads CMO Kerala's tweet, on Thursday.
"An emergency meeting presided over by CM Pinarayi Vijayan has reviewed the situation in the State," reads CMO Kerala's tweet, on Thursday.
"Air lifting has started in Chalakudy and Bhoothathankettu areas. Please stand in open areas on top of buildings and houses to avoid possible hindrances by trees. #KeralaFloods," reads CMO Kerala's tweet, on Thursday.
As the situation intensified, Southern Naval Command committed more rescue teams to the state.
"#OpMadad #KeralaFloodRelief #KeralaFloods2018 Southern Naval Command suspends all routine training activities & shifts to highest of readiness/ Top gear to help flood affected (as requested by KSDMA). Mobilises all avlbl resources for Rescue & Relief efforts in Ernakulam&Trichur," tweeted Spokesperson Navy, on Thursday morning.
The Chief Minister has requested Prime Minister Shri Narendra Modi for more helicopters and Central forces. "Prime Minister has promised all assistance. @PMOIndia," reads CMO Kerala's tweet.
"Spoke to Kerala CM Shri Pinarayi Vijayan again this morning. We discussed the flood situation in the state. Have asked Defence Ministry to further step up the rescue and relief operations across the state. Praying for the safety and well-being of the people of Kerala. @CMOKerala," reads Narendra Modi's tweet. 
With heavy rains, overflowing rivers, and landslides, over 1.5 lakh people are stranded, as reported on Wednesday. "A high alert situation continues in Kerala, the death toll has climbed to 67 and currently about 1.5 lakh people have been moved to 1067 relief camps across the State. #KeralaFloods #KeralaRains," reads CMO Kerala's tweet.
Emergency Center Numbers Of Districts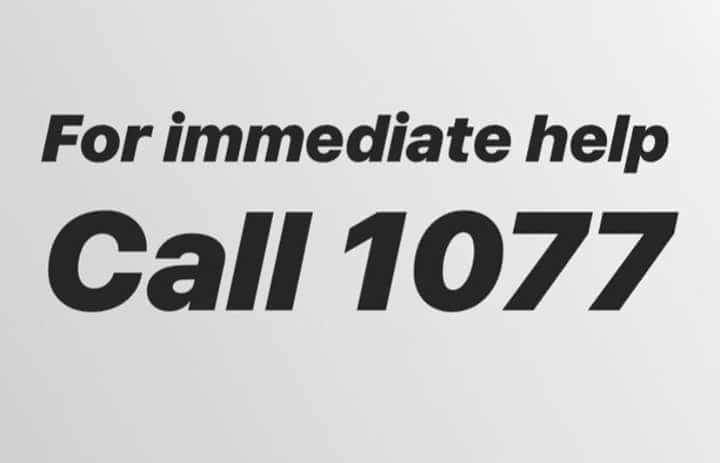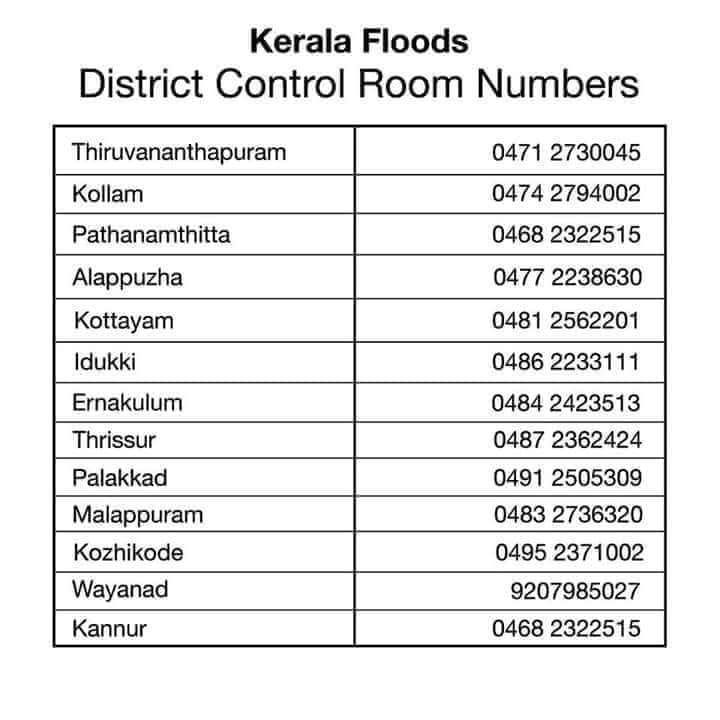 Visuals of waterlogging in parts of the state